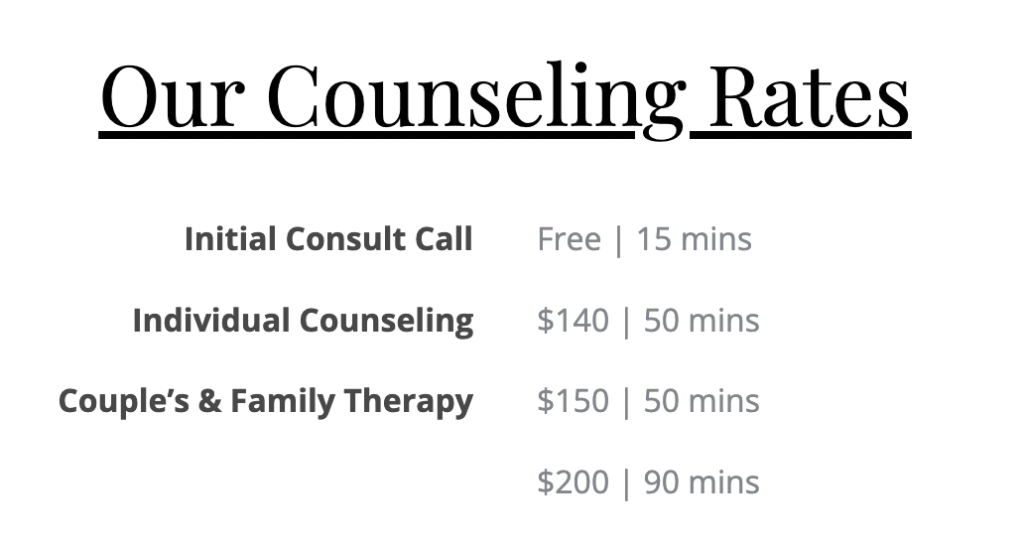 ---
We're an "out-of-network" provider. This means we don't bill insurance, talk to your insurance company, or take insurance payments.
We are able to provide Super Bills at client request – these contain the information necessary to send in a form for reimbursement for out-of-network care.
Pricing is discussed upfront, so there are no surprise bills. We also provide a Good Faith Estimate.
Our counseling is not in-network with any insurance company, including Medicaid.
This allows us the flexibility to provide individualized care not dictated by an insurance company. It also allows you to keep your mental health record private as insurance companies require a diagnosis and may request medical records at any time.
There are many benefits to paying privately without insurance – increased privacy, no intrusion on telehealth coverage, no session time or frequency limits, less cross-talk between insurance companies and other benefits that may be impacted by a mental health diagnosis, and predictable costs week-to-week.
Payment is due at the end of each appointment. We are able to take HSA, FSA, and all other major credit cards.