Hey, there! Sara here to answer some of your therapy questions.
You've probably seen therapy on TV. A person sighs wistfully, lies back on a couch, and says, "It all started when I was three." So, therapy can kind of be like that, but doesn't really have to. Therapy is a collaborative relationship between two people, with deep vulnerability and mentorship as its hallmarks. Each person's experience of therapy is different because there's no "one-size-fits-all" stuff. We will laugh together, we can cry together, we can shine a brighter light on your past or behaviors and attitudes accompanying you in the present that don't serve you anymore. We can ask the "whys" like "Why is it like this?" and also focus on the "hows" like "How can I meet these goals I've set?" You direct the course of this ship, and I'll help you row it.
What can I expect in the first session?
I'd love to answer any questions or worries you might have about therapy and the therapeutic process. I would love to listen to you and hear about why you're seeking therapy now, what your lived experiences have been, what your goals are, and more. I'll support you when and where I can, and I'll ask questions.
How do I know if I "need" therapy?
If you feel like this,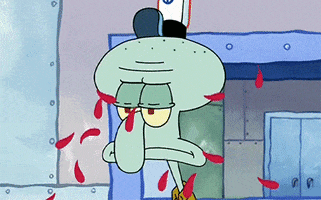 Do you take therapy notes?
If you're asking, "Do you write while I'm talking to you and go, 'Hmmm, very interesting…', or "Oooohhh I see," the answer is, no. Usually I'll be looking at you rather than a notepad, and if we're on the phone, I will be making empathetic sounds into the phone. I might take notes during our first session to really "get it right," or if something comes up that I need to document (like if you switched to a hard-to-spell medication for example, or if we're creating a list of goals, or we are creating a family tree in session, etc.) but generally I'm paying attention to you and following along with you. That being said, I do take therapy notes after session, which is part of the "therapy hour" for me, and why sessions go for about 50 minutes instead of right up to the next hour. I intentionally don't include a bunch of personal or identifying information in these notes for your privacy, but I do need to keep a reference of our sessions by law.
Do I have to take medication?
I do not and cannot prescribe medication. If you choose to do so, you will have to see another provider for these needs, so know that I cannot and will not "push" medication on you. I can offer you referrals should you choose to do so, however. The best evidence-based treatments combine medication with therapy or counseling. Counseling aims to treat the root of the problem rather than just alleviate symptoms.
How do I schedule an appointment?
Send me an email or hit me up through the contact page. You can call me but usually I'm in sessions, so an email is better.
What are your office hours?
Generally my main work hours are Monday – Wednesday from 9am-6pm -ish. If you send me an email I will give you an idea of my open spots. At the time of writing this page, my best availability is during daytime hours, if you can swing it.
Do you offer appointments by the hour?
Yes! Generally I meet with folks for an hour at a time. The "therapy hour" is about fifty minutes of therapy time, and then we schedule the next session and I hop off to complete a therapy note before my next meeting. If you have a special need or desire a longer session, let me know what you're thinking and I'll do my best to accommodate you, pending my schedule.
How long will I be in therapy?
This is a hard question to estimate, and depends on multiple factors, including your own specific needs and symptoms, environmental factors, how often we meet, my schedule, your finances, the work you do outside of session, and a myriad of other things. I've had people I've seen for only a few sessions, and people who have been meeting with me for years. You'll get the best results in the shortest amount of time by applying our work outward to the other six days in a week.
Please see information here.
Generally I meet with folks for a sit-down session by the hour, but if you want a bit more time, we can do the math accordingly. If you want me to review and comment on a google doc journal you've been working on, likewise. If we have a call in between scheduled sessions and it's over 15 minutes, that too. I won't surprise you with a bill, and ensure you consent each and every time you request my services.
I do have a missed appointment policy outlined in my office policies document on my resources page, so try to keep our scheduled meetings or cancel with more than 24 hours' notice. The long and short of it is, if you miss a scheduled session, or don't cancel with >24hrs notice, you may be responsible for paying up to the full fee of the scheduled session.
I accept most payment methods. I use square for credit cards, and also have a private business Venmo account @affirmation. Generally I keep a credit card on file and charge that for our meetings so you don't have to manage that and it doesn't take away from our time together. If you pay by another service like Venmo I ask that you do it in advance of our meeting so I don't have to keep hitting that "remind" button afterwards. If you're thinking of another way to pay (cash, check, priceless family heirlooms), let me know what you're thinking and we can figure it out.
What is a good faith estimate?
You have the right to receive a "Good Faith Estimate" explaining how much your medical care will cost.
Under the law, health care providers need to give patients who don't have insurance or who are not using insurance an estimate of the bill for medical items and services.
You have the right to receive a Good Faith Estimate for the total expected cost of any non-emergency items or services. This includes related costs like medical tests, prescription drugs, equipment, and hospital fees.
Make sure your health care provider gives you a Good Faith Estimate in writing at least 1 business day before your medical service or item. You can also ask your health care provider, and any other provider you choose, for a Good Faith Estimate before you schedule an item or service.
If you receive a bill that is at least $400 more than your Good Faith Estimate, you can dispute the bill.
Make sure to save a copy or picture of your Good Faith Estimate. For questions or more information about your right to a Good Faith Estimate, visit this website or call me to discuss at 657-235-2656.
Do you take my insurance?
I don't accept insurance and am not considered "in network" with any insurance plan. I have chosen this intentionally so you are offered more control over your treatment without insurance companies dictating what you are allowed to do with your mental healthcare, and to allow a higher degree of confidentiality in our work together. If you so choose, you may consult with your insurance to understand your out-of-network benefits, and I can provide a receipt or superbill you can submit for potential reimbursement for our sessions together. There is no guarantee that the insurance will cover or reimburse sessions so be sure to inquire about your own specific benefits.
Do you offer virtual meetings?
Yes! It's safer (since we're all thinking about communicable illness now), allows you more flexibility, you can be comfy in your place (or bed) of choosing, and I've been doing the van-dweller millennial thing so I also greatly appreciate the flexibility of online meetings. We can meet either by phone or using video chat through Google Meet. Generally I'll ask folks if they have no major preference toward video to meet by phone so we can save our eyes from additional screen time.
Absofuckinglutely. I don't have all these nose rings for nothing.
Do you write letters for gender-affirming care?
Yes. Whether you're seeking HRT, top surgery, bottom surgery, or another gender-confirming thing, I offer evaluations for gender dysphoria and letters as required by WPATH guidelines.
What are your specialties?
I'm trained in "therapy stuff" and went to school for counseling and am a licensed professional counselor; I feel comfortable dealing with most general therapy topics like anxious and depressive symptoms, performance at work or school, daily life stuff, and relationship transitions. I'm trained in many therapeutic techniques including Cognitive Behavioral Therapy (CBT), Mindfulness Based Stress Reduction (MBSR), and Neurolinguistic Programming (NLP). I am also a Certified Clinical Trauma Professional Level II, meaning I feel confident in working with folks who present with Complex Trauma, otherwise known as C-PTSD.
I also have a master's degree in human sexuality and so I specialize in this subject matter — whether that's your sex life, your sexuality or gender identity, your relationship, sexual pain or pain with sex, desire and arousal, sexual trauma, performance issues, kink stuff, nonmonogamy, worries about sex and related discomfort, the intersections of sexuality and religious faith, you name it, I look forward to talking about it. That said, to be clear, not everyone who sees me sees me for a sexuality concern. Sometimes people just want to see someone who "gets it." I welcome you contacting me whether sexual wellness is a goal of yours or not.
Do you offer individual and couple's counseling?
Generally, I (Sara) have found I am best as an individual's clinician. Thankfully, we have Dinnette here who does fantastic work as a couple's counselor. If you are seeking premarital counseling, couple's counseling, relationship therapy, or counseling and guidance for a polycule, we got your backs. Dinnette also does great family counseling work. She loves group dynamics and seeing the "whole" picture, what can I say!
A counselor generally cannot see both a couple and an individual in that couple for ethical reasons. If it is the case that you are also attending couple's counseling with a therapist in addition to individual counseling with us, you can complete a release so that we may consult with your other treating clinician(s) to help get you your best result.
Can I really talk about my sex life in therapy?
Yeah, I've kind of heard it all. I won't be afraid, or judgmental, or think you're a creep. Sexuality is a normal part of the human expression so I'm more than willing to hear about it and work on your goals related to sexuality collaboratively with you. We grew up in a sex negative culture, so I get that it's gonna be hard to talk about it, so I'll be patient with you. Communicating about sex can often feel shameful, embarrassing, and anxiety-provoking. I can work with you to resolve these and similar issues, in order to achieve greater sexual satisfaction and intimacy. You can be assured that even though we are talking about a taboo and sensitive topic, there are stringent boundaries around my professionalism with you: as such, there will be no nudity or requests for nudity, no flirting or sexual contact of ANY kind, no pressure for that or weird suggestions, and I will give you the utmost respect too if you choose to not engage with a certain topic or want to take a break from, or not address at all any sexuality-related topics in therapy. You direct treatment; we will respect each other's boundaries.
I see you do sex therapy specifically. Do you do "regular" therapy?
Yes! My colleagues and I are trained as mental health counselors first, and specialize later on, and feel comfortable working with a variety of therapy topics including relationships, life transitions, childhood trauma, mental health diagnoses like anxiety, depression, PTSD, OCD, stress, disordered eating, and so on.
Many people see me for more general therapy topics, and enjoy that if they need to discuss other topics pertaining to their relationships or sexuality, those topics are on-limits, too.
If you're curious, please email to ask!
Can I cancel or reschedule my appointment?
Yes, you may cancel or reschedule, life happens. I'll be as flexible as possible to find you another spot for rescheduling. However, I ask that you cancel your appointment 24 hours or more in advance so I may offer the spot to someone else. You can read more about my cancellation policies in my office policies document found in the resources tab.
Our work is 100% confidential except in the cases of child abuse, elder abuse, harm to self, or harm to others.
What do I do if I'm in crisis and can't reach you?
Sometimes you won't be able to reach me, whether I'm in session, on vacation, sleeping, lost in the mountains, etc.
In the event of a crisis or emergency, call 911, crisis, or go directly to your local emergency room.
National Crisis Line/Lifeline, 800-273-8255
Trans Crisis Lifeline, 877-565-8860
& Here's some resources local to the Lehigh Valley area, where our office is located:
Northampton County Crisis Intervention, 610-252-9060
Lehigh County Crisis Intervention, 610-782-3127
St. Luke's Hospital, 801 Ostrum Street, Bethlehem, 610-954-4500
St. Luke's Hospital, 1736 West Hamilton Street, Allentown, 610-628-8383
Lehigh Valley Hospital, Muhlenberg, 2545 Schoenersville Road, Bethlehem, 484-884-2200
Lehigh Valley Hospital, Cedar Crest and I-78, Allentown, 610-402-8111Easton Hospital, 250 South 21st Street, Easton, 610-250-4002