Hello, nice to "meet" you!
Learn more about the team here.
---
Sara
Owner & Licensed Professional Counselor
My name's Sara and I'm glad you're thinking of working on self-betterment. I'd love to walk this healing path with you.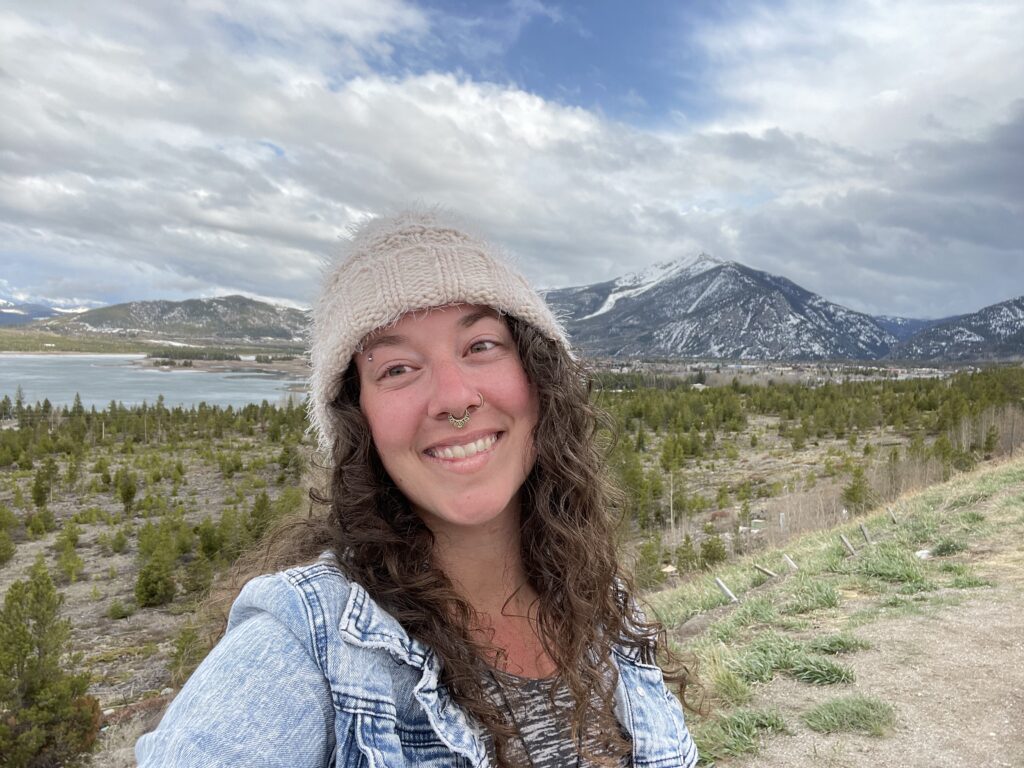 I'll tell you a bit about myself.
I'm a local to the Lehigh Valley area, but originally from the Jersey side. I have been working in the mental health field since 2010. I have a wide variety of interests, as evidenced by work in many fields of study. I originally attended Rutgers University and triple majored in Biological Sciences, Psychology, and English — I couldn't make up my mind. But, I'm glad to have had these experiences — honestly, I synthesize these "different" disciplines more than I had originally thought I would, in my current work. After departing from Rutgers and a few tries at some different fields, I enrolled at Lehigh University, ultimately earning a master's degree in Counseling Psychology and Human Services. I found my fit — I really enjoy working with a diverse body of people and hearing their stories! And I really enjoy supporting folks through tough times, hearing who they'd really like to be, and working to remove the roadblocks keeping them from their dreams. With this in mind, I then enrolled at Widener University's program in Human Sexuality, earning a second master's.
Working in sexuality topics is my ultimate passion. I love helping clients structure their ideal life and am not afraid to pay close attention to a key aspect of being a human — our broad sexualities! I specialize in working with folks around gender identity, sexuality, intimacy and relationships, communication, sexual pain, and with LGBT individuals, those in consensually nonmonogamous relationships, folks who identify as kinky, people involved in sexual or domestic violence, and those who might just desire some more sex education and affirmation from someone who "gets it."
I draw on a therapeutic orientation of feminist and humanistic counseling, which is all about power sharing and emboldening and uplifting clients using a strength-based approach.
In my free time, I love to read and write, draw, travel, attempt to hike, spend time with close friends, murder houseplants, practice mindfulness outdoors, journal, volunteer in the community, and I'm an avid gamer — I like story-based games and RPGs.
---
Services Offered:
In my practice I offer counseling, consulting, and educational services. Individual counseling is my area of expertise; I love to be a warm, supportive presence for folks. I also have developed a few group therapy initiatives over the years that meet regularly. I specialize in working in human sexuality topics, so please feel emboldened bring your taboo topics into the therapeutic space we collaboratively create.
The bulk of my work is now virtual; I meet with folks over phone or by video. At times I offer meetings in-person if I'm in the area.
I sometimes have the pleasure to offer workshops to individuals in the community which you can inquire about.
In addition to mental health counseling services, I am certified to offer Master-level Neuro-Linguistic Programming (NLP) and Mindfulness-Based Stress Reduction (MBSR) training. I am also a Certified Clinical Trauma Professional Level II, meaning I feel confident in working with folks who present with Complex Trauma, otherwise known as C-PTSD.
I am licensed in the states of Pennsylvania, New Jersey, Colorado, and New Mexico to provide counseling services. I have an office in Pennsylvania to provide in-person meetings, though I mostly work virtually. I am also registered as an out-of-state telehealth provider for folks in Florida and Vermont.
I do not currently accept insurance, and use a cash fee model. This allows us more flexibility in our work together and increased confidentiality. I can provide you a receipt for our meetings which you can submit to your insurance for potential reimbursement.
If you are NOT in the states listed above and seeking coaching, education, or virtual advising I certainly welcome a meeting to discuss how to create your best sexual life, and to provide educational consulting and coaching. However, be aware that if you would like counseling or therapy-related mental health services you must seek a practitioner licensed in your state of residence 🙂
My fee is $135/hr. You can read more about the financial part of treatment on my Frequently Asked Questions page.
If you are seeking couple's counseling, or therapy using a modality I don't have much experience in, I have a host of wonderful colleagues to direct you toward. You may complete a release of information so your other practitioner and I can consult about your case to get you the best result.
I truly enjoy envisioning the "whole" human and look forward to meeting you and joining you on your healing journey!
---
Brandi
Therapist Intern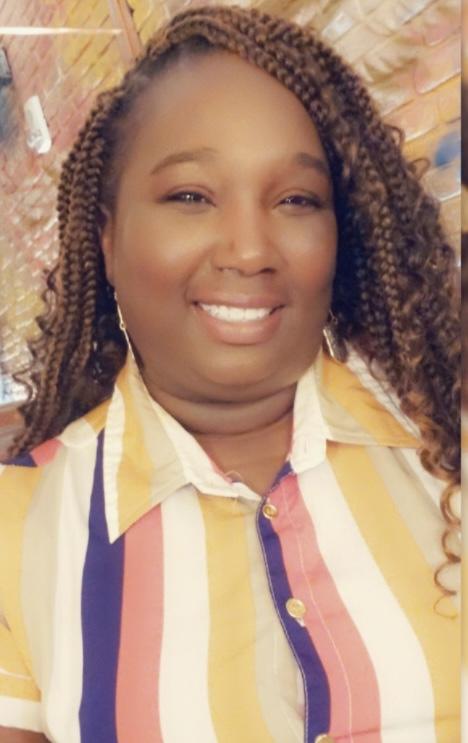 As a Marriage, couple and family counselor, my passion is to help families and individuals to become their best selves. To unite and restore the family unit by creating healthier attachments, clear, healthy communication, and identifying your core family values is my goal. When you are in my presence, you are seen and heard as an individual and as family. Utilizing a family systems approach, we will collaborate to identify, and develop family, values and goals.
Over the past 2 years, my work as a Drug and alcohol counselor has allowed me to see the importance of the family's involvement in an individual's struggle with addiction. Everyone needs connection and the family is a very important part of the recovery of an individual. Understanding that trauma, pain from childhood experiences, and attachment patterns, is at the core of many family issues. My goal is to walk alongside you and collaborate with individuals and families to overcome the challenges and obstacles of life.
With a strengths-based, person-centered, humanistic approach, you will receive an empathetic counselor who desires to see you whole and succeed in life holistically. I also enjoy helping young people understand their identity and how to use their unique gifts and talents to understand their purpose and place in this world. If you are struggling to figure this out, I would like to help you uncover the mystery and find your true self.
I create a safe, nonjudgemental environment for you to feel seen, heard, and empowered to dive deep and explore your personal thoughts and emotions. I look forward to the opportunity to offer you and/or your family support and challenging perspective as you walk through life.
You may get in touch with me at brandi@findyourselfbethat.com or at 570-534-0763.
---
Services Offered:
I offer individual, family, and couple's counseling to those interested.
Some counseling topics I enjoy working on folks with include Drug and Alcohol Addiction (personal and family), Emotional Regulation, Trauma, Relationships and Interpersonal issues, Anxiety, Anger Management, & Grief and loss.
Types of therapy I use include Cognitive Behavioral Therapy (CBT), Humanistic Approach, Person-centered therapy,& Existential therapy.
I work with people in Pennsylvania and offer in-person as well as virtual services.
I offer sliding-scale fee therapy and charge $60 for an hour-long session.
---
Dela
Moral support beast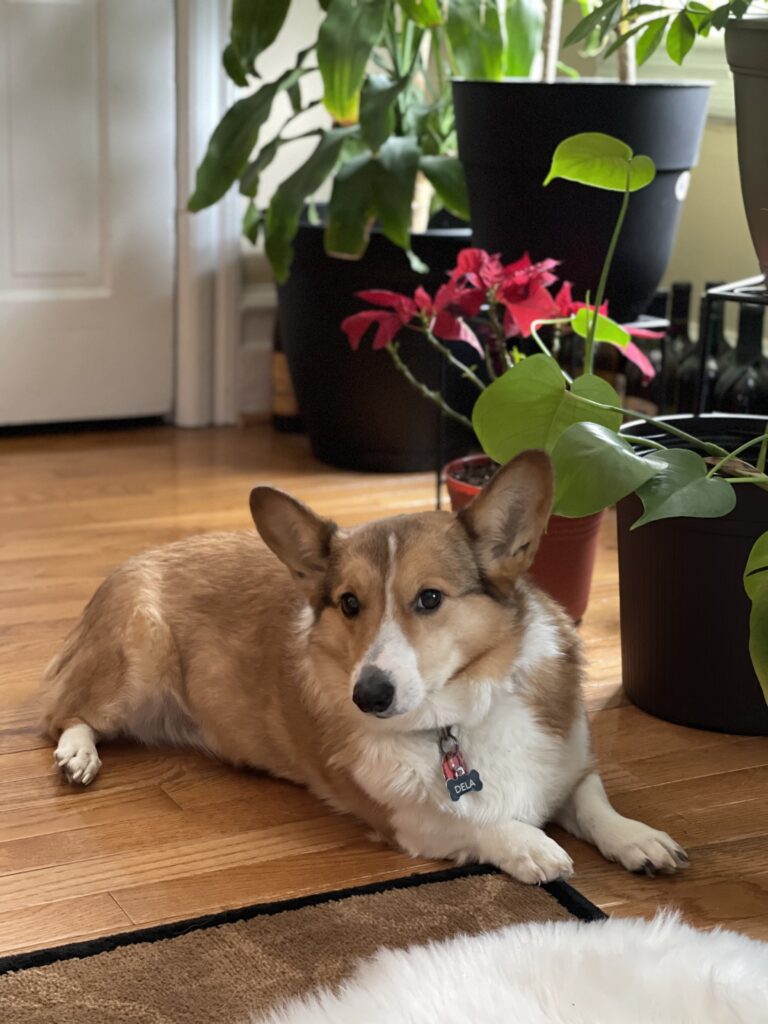 This footstool-shaped creature is our coworker, Dela.
She accompanies Sara in the office sometimes, sheds relentlessly and reminds you when you stop petting her.
She LOVES people, and is terrified of other dogs.
Dela is from Eastern Colorado and grew up in yellow fields of burnt grass under wide-open starry skies.
Dela has survived a neglectful childhood of constant crating, two broken legs, two autoimmune diseases, motherhood, and a stroke resulting in brain surgery.
She is evidence of perseverance through chronic health conditions. Dela is bright, full of life, and fully and unequivocally retired.
Dela has now learned how to live with East Coast humidity and has discovered a longstanding interest in squirrels she hopes to continue to expand upon.
---