"Between the Covers" Book Club
A cozy space to explore pelvic pain-adjacent topics through novels and works of creative nonfiction.
---
Lean into sweater weather with a warm and inviting book club facilitated by Sara and Katy, helping professionals trained in human sexuality, counseling, and the art of empathizing with pelvic pain topics. We plan to meet once monthly to discuss topics that are pelvic pain-adjacent, including love, body image, gender roles, and storytelling and communication. Join us the first Tuesday of every month at 7pm EST for a cozy hour and a half of love, support, reflection, and growth.
Please contact Sara at sara@findyourselfbethat.com for more information and to join our crew. You may register your spot by paying in advance here. If you would prefer to pick which meetings to attend à la carte, you may do so by sending an email to Sara. We are meeting virtually using Google Meet.
(Note: The readings are suggested, so if you have trouble finishing something, read one book rather than two, watched its movie instead of read the text, absolutely hated the reading, etc. – please feel comfortable attending, the most important thing you bring to us is your empathy, relating, and reflection. We're looking forward to meeting you!)
---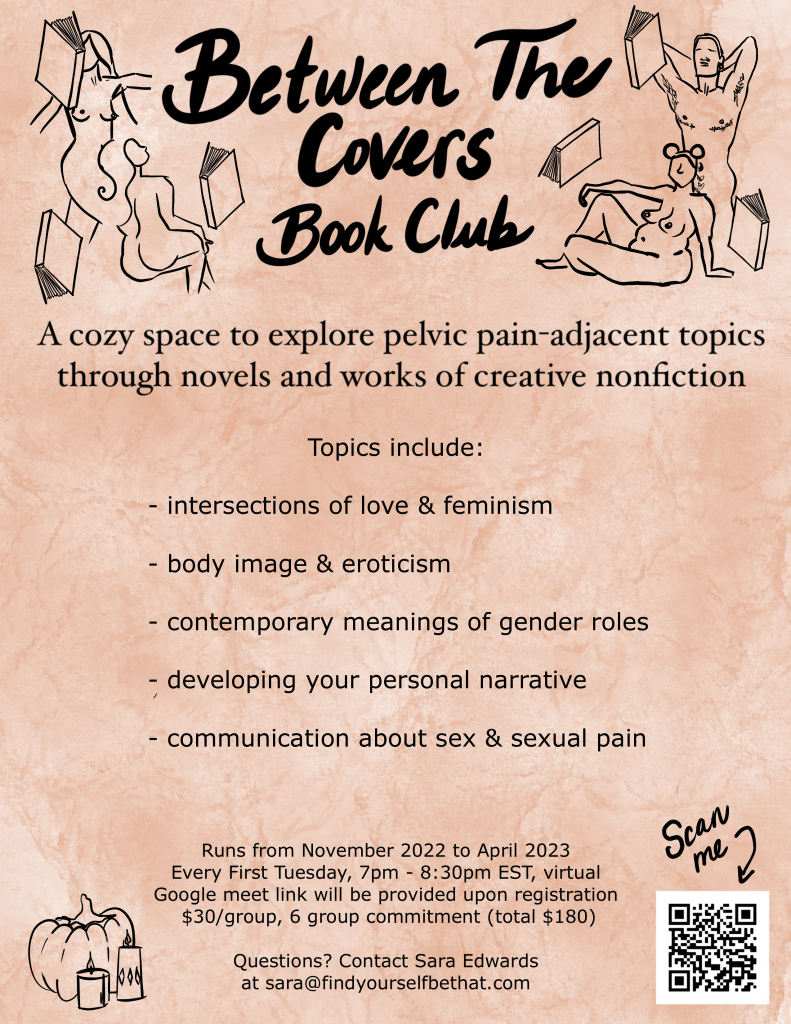 ---
Syllabus:
November 1st: Love & Feminism
All About Love: New Visions by bell hooks
December 6th: Body Image & Objectification
Milkfed by Melissa Broder (fiction)
Hunger: A Memoir of (My) Body by Roxane Gay
January 3rd: Pelvic Pain Memoirs
The Camera My Mother Gave Me by Susanna Kaysen
Vagina Problems by Lara Parker
February 7th: Sexualization & Sexual Violence
My Dark Vanessa by Kate Elizabeth Russel (fiction)
Sex Object: A Memoir by Jessica Valenti
March 7th: Communicating about sex
On Chesil Beach by Ian McEwan (fiction)
April 4th: Gender and Expression
Detransition, Baby by Torrey Peters (fiction)
---
If you're looking for information on a past book club, please check here.