"Between the Covers" Book Club
A cozy space to explore pelvic pain-adjacent topics through novels and works of creative nonfiction.
---
Let's relax into an end-of-summer wind-down with a crew of empathetic peers with guidance from Sara, a helping professional trained in human sexuality, counseling, and the art of empathizing with pelvic pain topics. We plan to meet once monthly to discuss topics that are pelvic pain-adjacent, including what's "normal," chronic illness, body image, vulva love, gender roles, and sex storytelling. Join us the first Tuesday of every month at 7pm EST for a cozy hour and a half of love, support, reflection, and growth.
Please contact Sara at sara@findyourselfbethat.com for more information and to join our crew.  You may register your spot by paying in advance here.  If you would prefer to pick which meetings to attend à la carte, you may do so by sending an email to Sara.  
For my beautiful late sign-ups, you are welcome to come! Email me.
(Note: The readings are suggested, so if you have trouble finishing something, read one resource rather than two, watched its movie instead of read the text, absolutely hated the reading, etc. – please feel comfortable attending, the most important thing you bring to us is your empathy, relating, and reflection.  We're looking forward to meeting you!)
---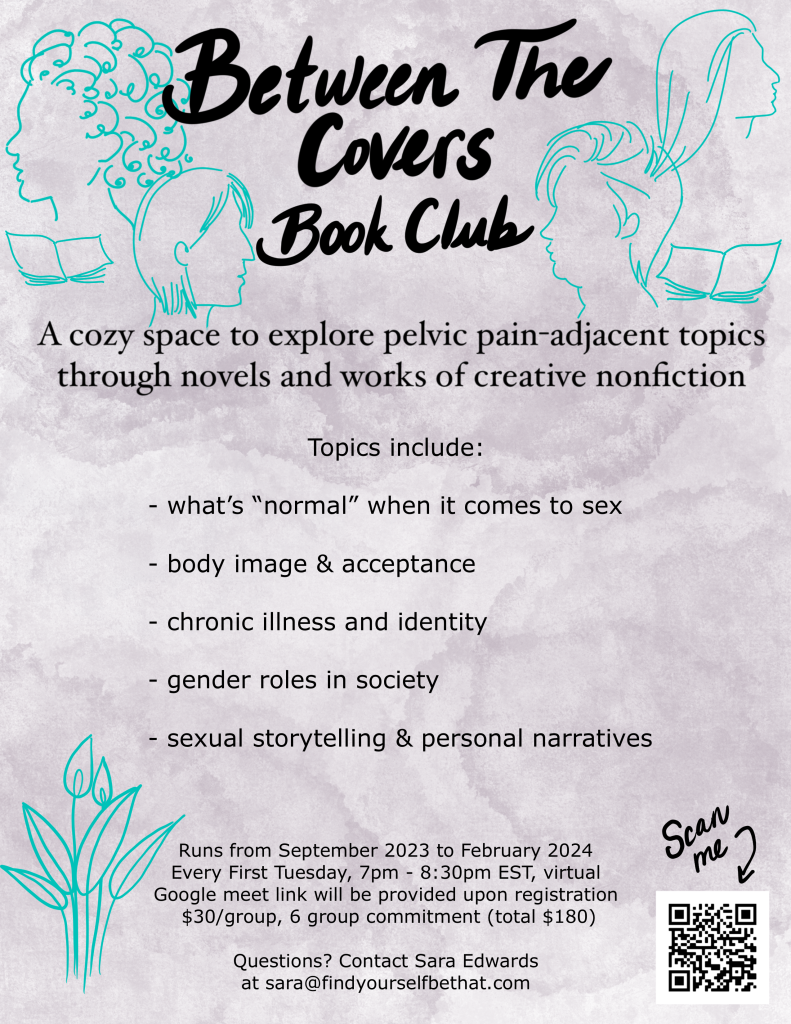 ---
Syllabus:
September 5, 2023: "Normal" & Sex
"Am I Normal?" The Question of Sex by Leonore Tiefer
October 3, 2023: Chronic illness & humanity
Sore Loser: a chronic pain and illness zine on queer disabled grief by Sandra Alland
Sick Woman Theory by Johanna Hedva
November 7, 2023: Vulva diversity & body image
Classification of the anatomical variation in female external genitalia by gynodiversity
December 5, 2023: Disparate labor in heterosexual & patriarchal society
Hermeneutic Labor: The Gendered Burden of Interpretation in Intimate Relationships between Women and Men by Ellie Anderson
You Should've Asked by Emma
Do Men Expect Women to do Everything? by Robert the Otter
She Divorced Me Because I Left Dishes By The Sink by Matthew Fray
January 2, 2024: Quality of life: The missing measure
Chronic Vulvar Pain and Health-Related Quality of Life in Women with Vulvodynia by Patla et al.
February 6, 2024: Sex stories
Cat Person by Kristen RoupenianI Have Vulvodynia. This Is How I Have Sex by Mark Hay
---
If you're looking for information on a past book club, please check here.