Who doesn't like an archive of good suggested reading? Please see below for a list of books utilized in past book club meetings.
---
April-September 2022 – Six-month series for Pelvic Pain
Calling women looking to usher in a hot girl summer! We are launching a virtual book club that will meet monthly for six months, beginning April 2022. We will use a variety of media to encourage discussion on topics like sexuality, pain with sex and sexual pain, the sex you are having vs. the sex you want to be having, how to communicate about tough topics, and deconstructing sexual scripts, purity culture, and all the lessons we learned about sex that now, well, don't really fit so right. If you're interested, please join us! Register your spot by paying here. Email me at sara@findyourselfbethat.com for more information and to confirm your spot.
---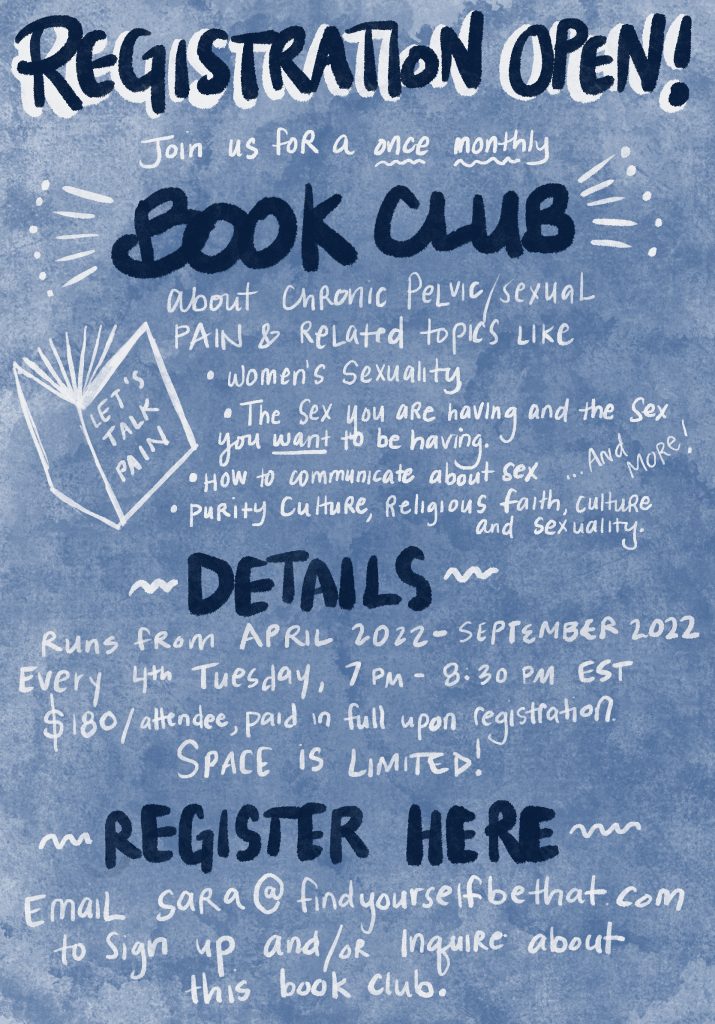 ---
Syllabus:

April 26: Women's Sexuality 101
Come As You Are
May 24: Learning about Chronic Pain
Explain Pain (pdf can be shared with you)
The Body Keeps the Score
June 28: Faith, organized religion, and sexual purity culture
Unorthodox Netflix Series/memoir
Critique article
Article: Is Purity Culture a Form of Sexual Abuse?
The Purity Myth: How America's Obsession with Virginity is Hurting Young Women
July 26: Intersectionality of Sexuality, Identity, and Body Image
The Body is not an Apology
Cranky Queer
Sore Loser Zine
August 23: Navigating Medical Treatment of Sexual Pain
Invisible: How Young Women with Serious Health Issues Navigate Work, Relationships, and the Pressure to Seem Just Fine
Secret Suffering: How Women's Sexual and Pelvic Pain Affects Their Relationships
Doing Harm: The Truth About How Bad Medicine and Lazy Science Leave Women Dismissed, Misdiagnosed, and Sick
Ask Me about my Uterus: A Quest to make doctors believe in Women's Pain
September 26: Talking about Sexual Pain and Sex
Sex Education Netflix Series
Article: Communicating about sexual pain when dating